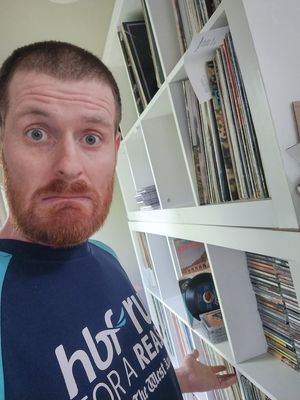 RECORD CLUB BULK BOXES
Welcome to the section of our website where you can buy "outright" an entire Record Club subscription in one hit! If you're the type who doesn't want to wait a month between Record Club instalments, or maybe you want to give a bulk box as a gift or just to discover some new stuff yourself - a Record Club bulk box is for you! And all of course, great traditional country music used in the making of the show - you never know what you'll get!
What's not to like?! And if I look worried, it's cos I've got too many traditional country LPs, CDs and 45s (just look at those stacks behind me!).. help me move some of these albums out of here, all the while supporting your favourite traditional country show!
A Record Club bulk box is almost exactly the same a regular Record Club subscription. It's pretty simple: 
1. Choose whether you want 12, 6 or 3 units in your Record Club bulk box (equivalent to a 12 month, 6 month or 3 month regular subscription).
2. Choose whether you want an LP, CD or 45.
3. Get it all in one delivery to your door!
NB. Remember, as with all things Record Club, the albums (or 45s) are used (not new, otherwise we couldn't have used it in the show!). There will be superficial signs of use, but what good is an album if it hasn't been listened to! Promos, cut-outs may be included. Units pictured are for illustration purposes only. T-shirt, coozie, sticker and liner notes not included with a Record Club bulk box. Only available in the USA.