If That Ain't Country's RECORD CLUB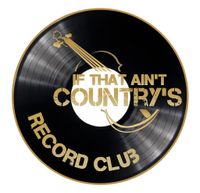 HERE IT IS folks! Your chance to support the promotion and preservation of traditional country music in the 21st century AND get yourself some cool merchandise and a piece of the show in the process. It's If That Ain't Country's Record Club, and it's a chance for you to get your hands on a CD or LP/vinyl record used in the making of the show - literally!
The fun part is, you never know what you'll get! Your album could be from any era - maybe it's a regional bluegrass success story, an independent western swing act or an album from a big-time country star. You'll expand your music collection and hopefully your music knowledge, all the while helping keep the lights on here at If That Ain't Country HQ! So take a look at your options below...
If you're looking for The Record Club Starter Pack, click here!
Each month, YOU GET:
- A CD or LP/vinyl record used in the making of the show.
- Hand-written album liner notes from yours truly!
- A USB digital copy of the album so you can listen on the computer or car! (for LP subscription, by request)
- An If That Ain't Country shirt (US only), stubbie holder/koozie and bumper sticker! (second month only)

NOTE: Outside the USA, you'll receive your instalments every three months (that's 3xCDs or LPs every three months or quarter) - the US Postal service is very expensive!