If That Ain't Country's RECORD CLUB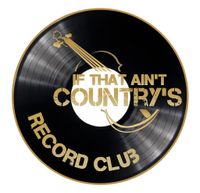 HERE IT IS folks! Your chance to support the promotion and preservation of traditional country music in the 21st century AND get yourself a piece of the show in the process. It's If That Ain't Country's Record Club, and it's a chance for you to get your hands on a CD or LP/vinyl record used in the making of the show - literally!
The fun part is that you never know what you'll get! Your album could be from any era - maybe it's a regional bluegrass success story, an independent western swing act or an album from a big-time country star. You'll expand your music collection and hopefully your music knowledge, all the while helping keep the lights on here at If That Ain't Country HQ! So take a look at your options below...
Each quarter (three months), YOU GET:
- 3x CDs OR 3x LP/vinyl records used in the making of the show.
- Hand-written album liner notes from yours truly!